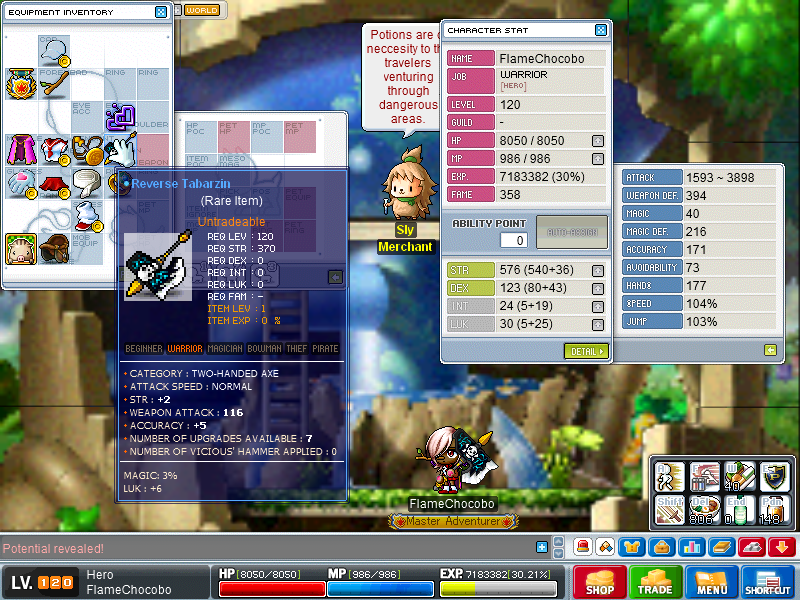 After spending a cluster of mesos, I finally made a Reverse Tabarzin! It's sad that I got a fail potential. As soon as I get NX another time, I might get a Miracle Cube.
Mesos Spent:
About 200m+
Items Used:
Advanced Diamond, Advanced Garnet, Basic Power Crystal (Didn't bother with Advanced ones), Two-Handed Axe Stimulator, Advanced Potential Scroll, and Premium Magnifying Glass.
And no, I won't be using Dark 30% or 70% Scrolls on this Axe, because sometimes the scroll will destroy it if failed, either screwing me or making me extremely angry that I have to get it all over again. More likely it'll make me angry since I am going to use Power Strike and Panic/Slash Blast and Coma until level 127/128 (I know Brandish is Slash and Stab illogically when it should be Pure Slash, but as soon as I get Brandish to level 21, I will use Tabarzin.) It's going to be my end game weapon, especially post Big Bang. I might scroll this with either 50% Scrolls if I can get them or Probably 10% and 60% Scrolls.
And I haven't leveled much since reaching level 120 and 4th Job of last year, so if I reach at a certain level where Brave Slash outdamages Brandish, I might sacrifice Brandish to max Magic Crush.
So what do you guys think?