I'm sorry for abandoning you guys but I'll be honest and say that I'd lost interest of this place since it's been dead and certain trolls had me tired of dealing with it...
I do pop in from time to time and see what's up with the ol' forum, though. Some of you haven't changed (that's both good and bad), some of you made progress in-game and out, nice to see you guys doing okay.
As for me, I just wanted to show another update on my Bowmaster. Only gained 5 levels since I last posted this character but it's progress. I've also never shown my equips so I figured I'd do so now. I'm nowhere near done upgrading my stuff but I'm busy outside of Maple as well, what with college work and all that.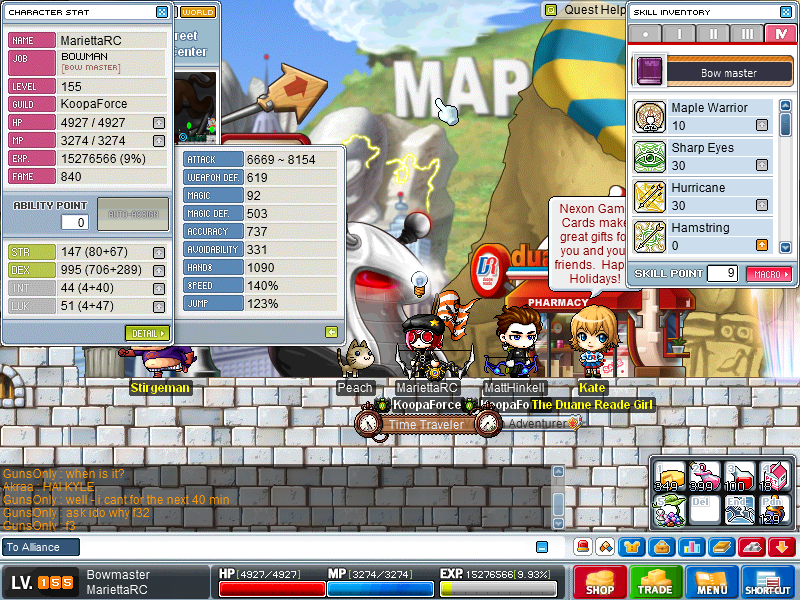 Also shown: Sheila stalking me. HI SHEILA.
Not shown: Bow Expert is at 27, Phoenix and Dragon Breath are both at 1. Currently working on getting Maple Warrior 20.
As you can see, I have FAR too much STR right now... I only need 125 total to equip my bow but certain potential stats and items have had me exceed that amount by a bit too much. Not to mention my base STR is a tad high now by itself when it was fine before. :b I'll be working on that later on.
My equipment.
I warn you, it's a lot of stuff. o_x
So yeah, that's all for me. I'll probably be back when I'm 160, hopefully by this year. :b