Bow Mechanics Guide
A guide to every single damn thing you can do with your bow.
.
v.1 Made the guide.
v.2 Added Mortal Blow, an Arrow Bomb note, and Critical Shot.
Table of Contents:Jump-Attack/Skill
> Description
> Static JumpShot
> Forward JumpShot
> Backward JumpShot
> Jump-Skill
> [Note] Jumping into a Kill
Pre-Shooting
>Description
Skill-Specific Mechanics
> Critical Shot
>> [Note] Damage formula
>> [Note] Arrow Bomb
> Arrow Bomb
>> BackBombing
>> [Note] Killing out-of-reach Monsters
>> [Note] Damage formula
> Power Knock-Back
>> PKB Kills
>> Miss Knock-Backs (MKB)
>> Player-Killing
> Mortal Blow
>> Jump-Mortal-Blow
>> Instant Spawn Kills
>> [Note] Homing
Environment Mechanics
> Your Strike Zone
> Height Advantages
> Creating Angles of Attack
>> [Note] Firing through Monsters
>> With Misses
>> With Damage
>> With the Environment
Jump-Attack/Skill
> Description
Jump-shooting is a very useful skill to acquire when using a Bowman. Whether for mobility or to keep FA from firing, jump-shooting should be a part of every Bowman's repetiore.
What jump-shooting isn't:
- It does not give a height advantage (That is, the attack comes from ground level)
- It does not make you the equivalent of an Assassin. Assassins are unrivaled in the air, since they can throw stars during a jump.
- It does not modify the attack's damage, direction, or speed.
What jump-shooting is:
- Allows you to avoid attacks while mounting an attack of your own.
- Allows for greater mobility when fighting.
Remember, jump-shooting is different for different keyboards. One way might not work all the time. Hell, it may not work at all. Keep experimenting with different keys.
There are four kinds of jump-shooting:
>>
Static Jumpshot
>>
Forward Jumpshot
>>
Backward Jumpshot
>>
Jump-SkillThe Static Jumpshot
This means you push Attack and Jump at the same time. This will make you jump and fire on the spot. This can be useful if you'd like to dodge a projectile attack. Some may opt to use this to disallow FA from firing.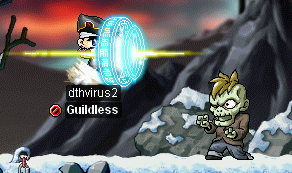 Note that the picture was taken a hundreth of a second before the arrows appeared. The arrows will come from under his feet.
The Forward Jumpshot
While walking (holding) forward, hit Jump and Attack at the same time. You'll jump forward and fire at the same time. The attack still comes from where you began your jump: no extended range because you jumped. You can use this to dodge projectiles if you have a fair amount of Jump. Since you are moving when you jump, your jump's peak will be more unclear, therefore you'll need the jump to give the most 'dodge zone'.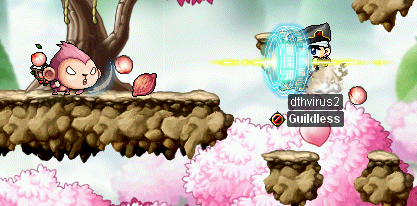 Dodged a peach with a jumpshot.
The Backward Jumpshot
Called 'backshot' by most players, this is arguably the hardest to pull off. While walking in one direction, slam the opposite direction, Jump and Attack at the same time. Your keyboard may protest with a beep. This is also very rewarding if you can do it proficiently. You can dodge a magical attack by backshotting out of range, while still squeezing off an attack.
You can't really tell a regular jumpshot from a backshot from a screenshot. But I swear I did one
.
The Jump-Skill
I had to make up a name for this, since jumpcasting is reserved by Magicians
. Bowmen have the ability, as do other classes, to cast skills in the air. To reduce landing lag, hit Jump and the skill at the same time. This minimises the amount of time the skill's animation must play out on the ground. Simply put, starting the animation earlier means it ends earlier.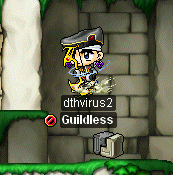 [NOTE] Jumping into a Kill
Many people have already figured this out. If you are sure that you can kill the monster in one attack, you can forward jumpshoot INTO a monster. Since a monster dies when you use the skill, the monster should be dead by the time you step into it, even if it's still in the 'hit' animation. You would do this to save time and increase the speed of your training.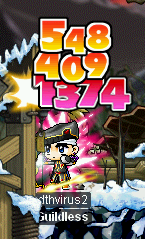 An example of walking into a kill.
Pre-Shooting
> Description
Not as commonly known as jump-shooting. Pre-shooting is shooting offscreen at where you think a monster is. At first glance, it sounds stupid. It even looks stupid on your screen, firing offscreen at seemingly nothing. There is, however, method to this madness.
If you train at the same map for a lot of time, you'll probably know every pixel by heart. You'll also develop a foresight that tells you where a monster is likely to be. Taking advantage of your range, fire offscreen at where you THINK the monster is. Chances are you'll hit something. Give it practice.
This works better on long and low maps. You can pre-shoot on large maps with multiple people, so long as they keep a steady kill rate. And pre-shooting does not work on tall and thin maps, because you can't shoot downwards.
Skill-Specific Mechanics
>
Critical Shot
>> [Note] Damage Formula
The old debate. Before I go and confuse you, get this straight:
The damage formula is not 200%. It is +100%.
What does that mean? It means that it adds the value of one more single-shot (non-critical of course) to your damage. A single-shot is your Attack command.
Why is 100% + 100% not equal to 200%? MapleStory uses a randomized damage system. When you attack, a random number is generated and computed with your attack stats. This is why you do different amounts damage each time.
I will illustrate this with... text.
Let RNDx represent the randomized damage of a shot.
Let RNDy represent the randomized damage of a shot.
Let FinalDamage represent the total damage.
The formula for a single-shot is as follows:
FinalDamage = RNDx
You agree? You should.
The formula for a single-shot with Critical Shot is as follows:
FinalDamage = RNDx + RNDy
You see that Critical Shot is the exact same thing as firing two arrows.
I give you the erred formula for Critical Shot for comparision:
FinalDamage = RNDx + RNDx
Which is the same as:
FinalDamage = 2*(RNDx)
Let me substitute real numbers, to further clarify this:
Single-shot formula: FinalDamage = RNDx
Single-shot formula: 648 = 648
Single-shot with Critical Shot: FinalDamage = RNDx + RNDy
Single-shot with Critical Shot: 1021 = 385 + 636
Erred formula single-shot with Critical Shot: FinalDamage = RNDx + RNDx [OR] FinalDamage = 2*(RNDx)
Erred formula single-shot with Critical Shot: 1094 = 547 + 547 [OR] 1094 = 2*(547)
How can I prove this? It becomes apparent when you use low-levelled skills with maxed Critical Shot. Critical Shot will blow the damage way out of proportion. The best time is to test this with your new, low-levelled 3rd Job skills.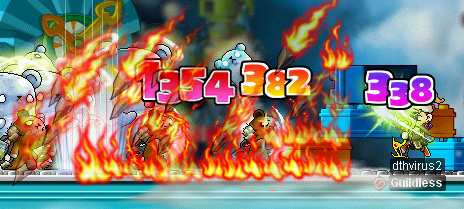 See the 1354? That is coming from level 1 Inferno at level 74. The horribly low 382 reinforces the fact that it will never be x2 damage.
Are Bowmen getting ripped off? No. This just adds an element of unstability to your damage.
[Note] Arrow Bomb
Arrow Bomb has a unique critical, in that it gets 200%, rather than the +100%. This makes its damage more stable.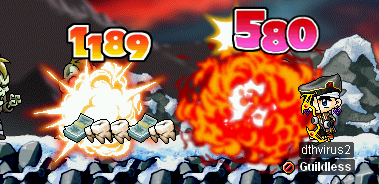 This screenshot clearly illustrates this.
>
Arrow Bomb
>> The BackBomb
When using Arrow Bomb at nearly point-blank range, you can catch monsters behind you in the blast. It's pretty hard to avoid taking damage at this range, do this only when you have no angle to attack with.
BackBombing requires you to get very close to your monsters.
>> [Note] Killing out-of-reach Monsters
You can also use one monster to Bomb and attack the rest. With FA, the monster tends to die very quickly.
>> [Note] Damage formula
The initial hit (the monster struck by the Arrow Bomb) recieves 30% damage. The farther a monster is from the detonation, the more damage it will recieve. This makes it very much unlike a real bomb, which would do more damage to the first target, and less around it. You can think of it as an inverse explosion. I'll use the same picture again: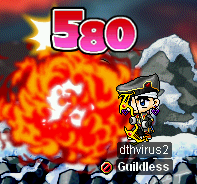 I was level 70 at the time, and it is obvious that a 70 Ranger would never do that sort of critical damage in any other way.
>
Power Knock-Back
>> PKB Kills
This is a handy way of preventing damage. Max PKB deals quite a good amount of damage, compared to your bow-whack. This damage is useful for finishing a monster you have mortally wounded.
Let's take a situation here: The Forest of Dead Trees I, II, III, or IV. You ran forward and attacked, expecting to kill the monster in one attack. Your damage came up short and you're now sliding on a collision course with the monster. Any attempt to attack again will result in a horribly weak bow-whack. PKB instead. It will likely kill the monster, saving you some HP and time. If it fails, it might send the monster back, giving you time to attack again.
Thwack! Saved time and HP.
>> Miss Knock-Backs (MKB)
This really has no accepted name.
Basically, if you miss a monster that you can't hit, PKB can miss and still knock the monster back. This is useful if you're in a mob and State of Darkness is cast upon you. You can PKB the monsters away to give time to escape. It applies no damage, but still gives knock-back.
>> Player-Killing
...
And you thought they were urban legends.
Player-killing (PKing is the term used in most MMOs) is quite the dastardly deed. Basically, you use PKB to send monsters in that person's direction, in an attempt to kill him or her. It's easier when you catch the other player off guard, or if they aren't familiar with PKB.
Okay, hear me now. There is NO Bowman with PKB that hasn't tried to nail a KSer's butt the the wall at least once with PKB.
Shall we discuss the pros and cons?
Pros
- Gloating
- The 'Roffle Factor' of 11/10, (i.e. you'll laugh yourself to brain damage)
Cons
- Mass defame.
- Bad reputation.
- You're
so
going to hell when you die
.
Conculsion: PKB Player-Kills are like warez, everyone does it, you just don't talk about it.
>
Mortal Blow
>> Jump-Mortal-Blow
Mortal Blow does activate when jump-shooting. This will affect your jump-shooting. Mortal Blow's huge knockback capability will most likely make the monster fall back a bit. This won't be nice if you're trying to clear the monster with your jump, since the monster will follow your jump when it falls back. On the other hand, Mortal Blow might finish off or instantly kill the monster (the latter being very rare), allowing you to continue on.
>> Instant Spawn kills
Not really a strategy at all. It's very rare, on top of that. If a monster spawns on top of you when you are firing at another monster (or if you have incredible reflexes), Mortal Blow might activate and instantly kill the monster, saving you from the knock-back. Mortal Blow is actually quite slow, and the monster will likely hit you before it dies. If the monster spawns within your minimum range (not on top of you), chances are it will die before it can reach you.
[Note] Homing
Mortal Blow DOES NOT home in on the monster ALL THE TIME. It fires in a straight line sometimes, much as Iron Arrow does. You'll figure this out when you are sniping from under or over a monster, and Mortal Blow activates a few pixels under the monster (All arrows originate from the center of your bow, Mortal Blow is no exception).
However, it will home in at random times, say when it misses the first but homes in on the next. I believe that it homes in when the targeted monster is farther away.
Environment Mechanics
> Your Strike Zones
Your arrows will zero in on your target. No you don't have to pay extra. You can tell if you fire at target and it jumps; your arrows will track back and forth to hit it.
For some reason, projectiles aren't good at hitting monsters on ramps. No one knows. I'd break into Wizet HQ to find out, but the robotic attack dogs would kill me.

Sometimes you can't fire at a monster that is right up against a wall.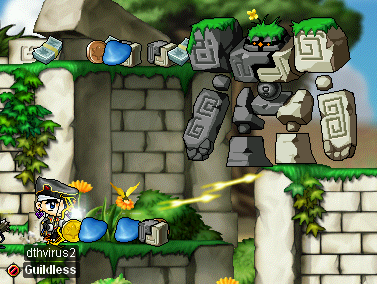 Firing upward through platforms works alarmingly well. However, the lip of the platform tends to block attacks just as well.
Certain structures will block attacks as well. In Ludibrium's Clocktower, the platforms are usually full of weird extrusions. These will sometimes block attacks, so be wary.
This tiny extrusion blocks projectiles.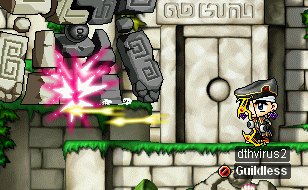 Now I can hit it, since it's past the little bump.
Sometimes, monsters on lower platforms will attract shots meant for another monster. You'll need to get closer to your monster to prevent this.
Where ramps touch the ground block attacks as well.
> Height Advantages
Time to play Sniper. Some maps have strategically placed platforms for ranged classes to fire from. They usually give a commanding view of the map. Many monsters can't reach you on the platform. Players call these snipe points, because you can snipe from them.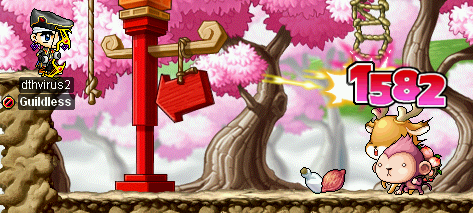 A snipe point.
> Creating Angles of Attack
I know this sounds like a battlefield strategy. Creating angles of attack means finding an opening in your opponent's defense. You may do this using misses, damage, or the environment.
>> [Note] Firing through Monsters
This is quite difficult to explain. You CAN fire through a monster under certian circumstances.
Your invulnerability after a miss or after taking damage makes your character invulnerable. Your weapon is not part of your character, believe it or not. You can stand inside a monster and fire when invulnerable. This does not trigger a bow-whack, as bow-whacking requires a monster to be in front of you, not behind you.
You must position yourself so when you fire, your bow is clear of the monster you are standing inside and any other monster. Simply put, by taking your character out of the equation, your minimum range decreases.
When would you use this? When clearing a platform without the help of Arrow Rain or Eruption. Look for small gaps in the mob, about 1.5cm or larger to use this. That is literally all the space you need to use this strategy.
I'm still trying to get a picture of this.
>> Using Misses
The best way. If you need to get minimum range inside a mob, and the empty space is a long ways off, try for a miss. You can't really predict a miss, but if you see it, you'll be invulnerable for ~2 seconds. Use this time to get out of the mob and let fly with a mob attack, or try to fire through the monsters, as explained in the above note.
>> Using Damage
Not so good, but works. Damage makes you invulnerable for a bit of time, so use it to find an angle of attack. It knocks you backward, and wastes some time getting back, but can still provide an advantage.
>> Using the Environment
If you're ever overwhelmed, try to beat a hasty retreat to a place where monsters can't reach you. A snipe point is a good place to try this.
Credits:
It's all me and personal experience right now. Anyone can add a tip. You'll be included in the credits. C'mon I know you have some tricks to show us!
[Note] Inexperience
I have no experience as a Crossbowman, so feel free to correct some stuff or add new material.
Please note that this is guide concerns mechanics for one class, not for MapleStory as a whole. This should stay in the Bowman Guides section to avoid confusion.
Edited by dthvirus, 20 November 2007 - 04:32 PM.